Invisalign
---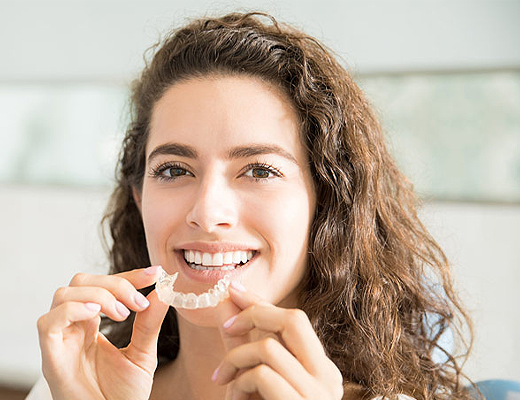 Invisalign is a brand name for clear dental aligners, which is a tooth alignment system that will straighten your teeth without the use of metal braces. Additionally, Invisalign dental aligners are invisible, making them the perfect cosmetic tooth alignment option.
What Are Invisalign Dental Aligners Made Of?
Invisalign dental aligners in Edina, MN are clear and made of a patented flexible thermoplastic material that is called SmartTrack. This product has been created for use exclusively for Invisalign treatments. It has been FDA approved since 1998 and is made from a medical-grade polyurethane resin without any BPA, so it is completely safe.
How Is Invisalign Different from Traditional Metal Braces?
Traditional braces use metal brackets, wires, and elastic bands that are placed on your teeth to move their position. The Invisalign system uses a series of clear tooth-aligning trays to move your teeth.
These plastic trays are custom-made and are changed periodically according to your dentist's treatment plan. Each new set of aligners will shift your teeth into place over time until they have reached their desired position.
How Long Do You Have to Wear Invisalign Dental Aligners?
Your Invisalign dental aligners in Edina, MN must be worn 22 hours per day if you want them to be effective. That means they must be worn at night. Additionally, the entire treatment from start to finish can take anywhere between six months to two years (longer in some cases) depending on the condition of your teeth.
Can Anyone Get Invisalign Dental Aligners?
Unfortunately, Invisalign dental aligners are not an option for people with complex dental issues. They are only effective for people whose teeth only require a specific kind of movement. Your dentist in Edina, MN will be able to recommend a tooth alignment option that is right for your specific situation.