Veneers
---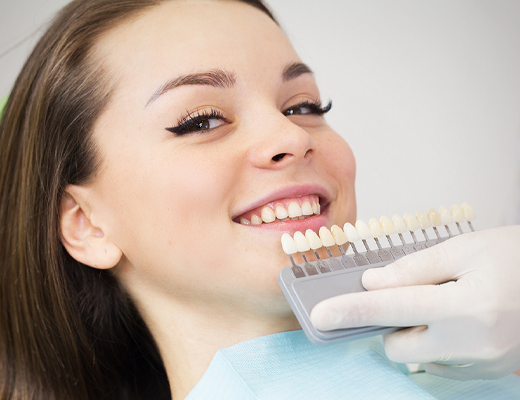 Cosmetic Family & Sports Dentistry offers dental veneers in Edina, MN, that can help you achieve the brilliant smile you deserve.
Dental veneers are thin, natural-looking coverings for the front surface of the teeth that show when you smile. They're a great solution for a wide range of cosmetic dental issues that people experience. Whether you have permanent discoloration, uneven spacing, chipped teeth, worn down teeth, or teeth that don't look as attractive as you might like, dental veneers can help.
What to Know About Dental Veneers
Dental veneers are not a solution for damaged or decayed teeth that need dental treatment. Veneers are not for covering up dental health issues. They're only a cosmetic solution for certain issues that are unrelated to dental health. Suppose you have underlying dental health problems. Like decaying teeth, gum infection, cavities, or something similar, that condition will need to be resolved before getting dental veneers.
The other helpful thing to know about dental veneers is the easy process. There is very little to no discomfort, and once the treatment is complete, you can look forward to decades without having to get replacement veneers.
What Are Dental Veneers Made Of?
Dental veneers come in several different materials, such as composite resin and porcelain. The type of material that you and your Edina, MN, dentist decide on will impact the cost and durability, but not the appearance. Both composite resin and porcelain veneers look incredibly realistic, and it's unlikely that anyone except you and your dentist will be able to tell that you have dental veneers. This is one of the many reasons why so many people choose to get this treatment.
Reclaim the beauty of your smile with dental veneers at Cosmetic Family & Sports Dentistry. Isn't it time you enjoy the ability to smile with confidence again?